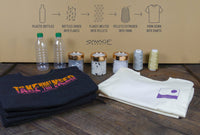 What are these products made of?
Recycled Polyester - 4 recycled bottles are shredded, melted, extruded, and sewn into each comfy tee. This is great for the environment and provides you a more comfortable and breathable product.
Organic Cotton - clean, natural growth of crops without the use of toxic pesticides that run off into our waterways. Local farmer and agriculture are an integral part of our economy and our menus.